On Saturday July 28th the new and improved Ballina Memorial Pool and Alstonville Aquatic Centre officially opened with fun giveaways, squad and swimming lesson demonstrations plus an aqua aerobic class and a sausage sizzle.
Both renovations were in the vicinity of $15.5 million. For Ballina, a new amenities building, a children's wet play splash area, an undercover barbecue area and transparent fencing along the Richmond River with access ramps into all pools were some of the improvements made.  
In both locations the 50 metre pools have been retained with eight 2.5m wide lanes for competition swimming and water polo, along with a 25m heated enclosed pool with six lanes which can be used for swimming lessons, children play, lap swimming and rehabilitation. There are access ramps into all pools, a wet play splash area for children, covered tiered seating for 300 people, a cafeteria and dining area as well as brand new BBQ facilities and shelters.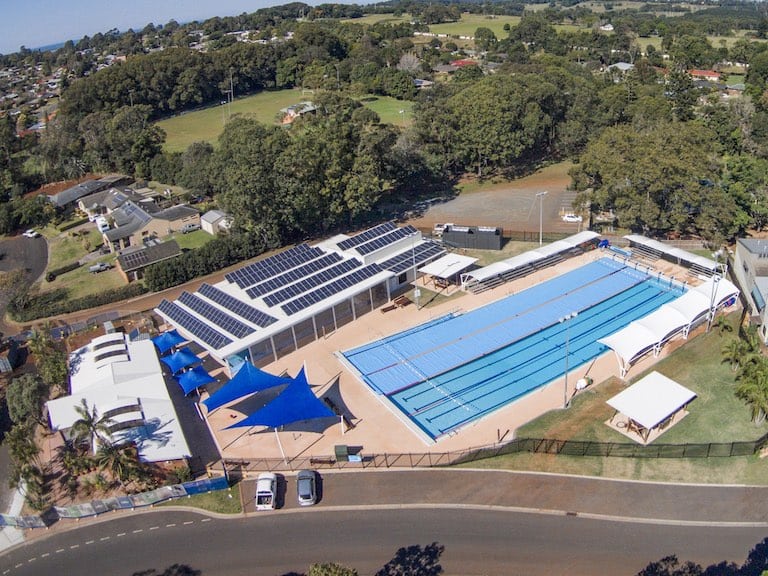 Ardill Payne & Partners were engaged by Woollam Constructions to undertake structural design and documentation for both pool upgrades.
The upgrades included were the foundation and slab layouts, piling layout and loads, wall bracing layouts and roof tie down details for the new amenities and administration building at the Ballina site.
Alstonville pool received the following upgrades; Primary structural steel framing, connection details and foundations for the Learn to Swim Roof Systems, foundation and slab details, wall bracing layout and details and roof tie down details for the new pool equipment building which included foundations and concrete details for new disable access ramps and retailing walls. APP also undertook civil design and documentation for site gradings, concrete pathway layouts and details, certification of works, site inspections and RFIs.