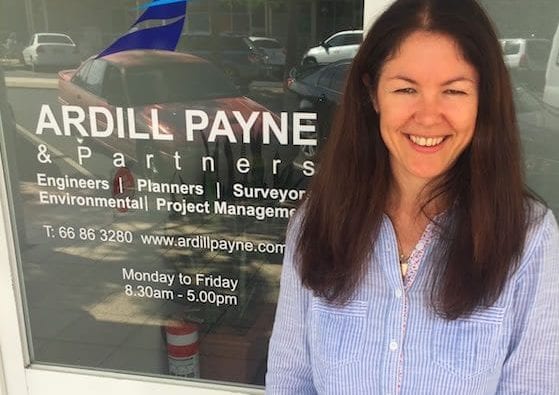 Southern Cross University proudly introduced its Bachelor of Engineering degree only three years ago, and this year, the first Graduates will receive their qualifications. One such graduate, Lisa Hansberry, who will be graduating with Honours in Civil Engineering in December, has already been offered employment with local industry leaders Ardill Payne & Partners in Ballina – and as we all know, both living and working in our beautiful region is an exciting prospect. 
Maree Savins, Project Support Officer – Engineering (within the School of Environment, Science and Engineering) has been at the University for over 16 years.
"SCU welcomed Lisa as part of the first cohort of Civil Engineering students enrolling in the new degree at SCU, and soon we expect she will be part of the first graduates celebrating the end of their studies," said Maree.
"Not only has Lisa performed extremely well academically throughout the engineering degree, she is somewhat of a natural leader, taking up the President role of the SCU Engineering Society for a three-year period and serving as part of committees in the capacity as student representative."
Lisa presented at a number of SCU events on the value of an engineering career and is a strong advocate for women in engineering, being an integral member of the SCU Women in Engineering group and presenter at the 'GIRLS IN Engineering, Science & IT' event held in Ballina.
Ardill Payne & Partners is also passionate about promoting women in engineering, and have previously sponsored this event, which encourages girls in Senior High School to enter into a career in Engineering. 
Tony Cromack of Ardill Payne & Partners commented, "We are excited that we have been able to support the SCU's emerging School of Engineering, and secure Lisa in our ranks, to give local employment to a talented local graduate."
Tony Cromack added, "We are looking forward to supporting SCU and the engineering program more in the future and are committed to employing more local students."
In 2015, Lisa won the Southern Cross University Rising Stars Rous Water Scholarship. She now feels incredibly fortunate again having secured her position with Ardill Payne & Partners, who have been practicing locally for 35 years, and have been involved with well-known projects like the environmentally conscious Elements Resort, Byron Bay; the Habitat Development, Byron Bay, Emmanuel Anglican College, the Ballina RSL Club and Ballina Heights Estate, to name just a few. 
Lisa commenced with Ardill Payne & Partners in October, and once she has graduated, will commence on a full-time basis in November 2016.
If you are interested in pursuing a career in Engineering, please contact the 'Future Students Team' at SCU about your study options, on 1800 626 481.