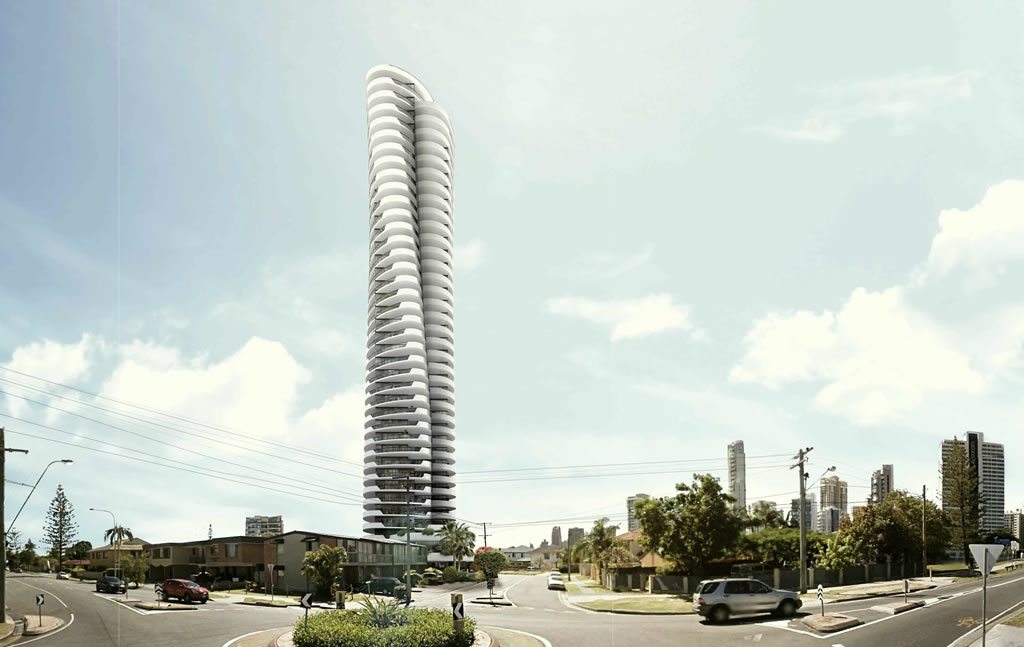 Chevron Island is a ground-breaking, forty-two storey residential tower on Chevron Island, Surfers Paradise. Designed to provide large unit accommodation in the heart of the action, the development has ground floor artist in residence, as well as a café, a residents' lounge, gymnasium, barbecue area and 25m wet-edge heated pool.
There will be additional features such as a drying and storage room on each floor for surfboards and bicycles, and car parking for all units. Many of the apartments in the east-facing tower will have 180-degree views of the Surfers skyline, the ocean and the Nerang River. The apartments range from studio units to three bedroom suites and also luxury penthouses.
The Brief:
The client came to us wanting one stop shop for Civil and Structural Engineering Design for a new form of tower solution.
Key Challenges:
The key challenges we could see for this project were deep excavation into a water charged foundation, difficult parking and traffic impacts, and a tall slender curved building.
Solutions:
We overcame these challenges by review of foundation construction options that would minimise impact on neighbours and the environment, benchmarking parking and traffic impacts against similar developments around Australia and successfully negotiating an outcome with Council, developing load paths and structural solutions with the architect during early stages of the development.
Budget:
The budget for this project is estimated to be $120m.
Key Features:

The key features of this project will be;
Forty-two storey Residential Tower
Large unit accommodation
Luxury Penthouses
Ground floor Gallery & Cafe
Gymnasium, Barbecue & 25m Wet Edge Pool
180-degree views
APP's Role:
Ardill Payne & Partners will be responsible for the Civil Engineering, Structural Engineering & Traffic Engineering for the project.
Chevron Island Project Gallery