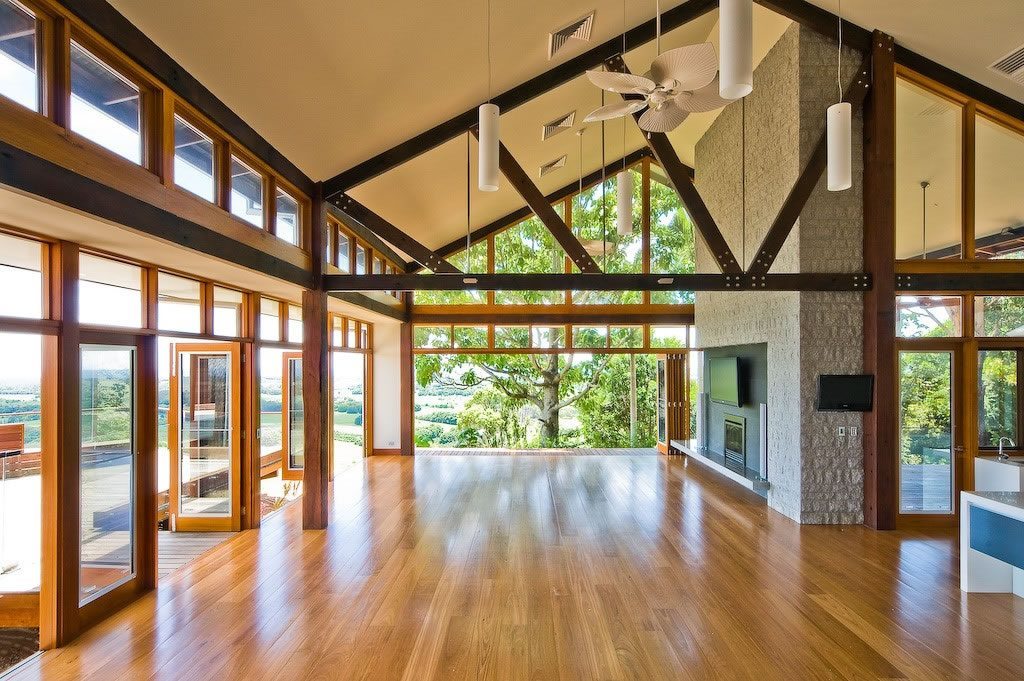 Project

Coolamon Scenic Drive
Magnificent views of the Far North Coast and hinterland have been captured beautifully in this elegant steel, timer and masonry structured rural dwelling. This fabulous north-facing property has extensive views over the coastal plain from Cape Byron to the Gold Coast and west to the Byron Hinterland. It was designed employing ecologically sustainable and passive solar principles, including rainwater capture and solar power supply.
The home uses recycled timber as the primary material in this sprawling pavilion-style house and outbuildings. Reclaimed blackbutt from old bridges and warehouses is used for much of the structure, cladding, decking, windows and other building components.
The Brief
The client came to us wanting highly refined structural detailing to display the views, recycled timbers and architectural statements of the building.
Key Challenges
The key challenges we could see for this project were the large open spaces and floating structure generated complex bracing and stability issues for the pavilions. The recycled timber added to this problem.
APP's Role
Ardill Payne & Partners undertook the Structural Engineering Design of the project. 
Solutions
We overcame these challenges by detailed joint and materials design for the range of connections and bracing components available. This allowed the architectural and structural statements provided by the design solutions to enhance the effect of the recycled timber, spaces and views. Plywood structure and composite roof trusses were solutions we could offer through structural engineering design.
Key Features

The key features of the project are the recycled timber used extensively in the build, and the magnificent North Coast views.
Key Parties
Designed by Archimages Architecture,  and built by J S Henderson Builders
Coolamon Scenic Drive Project Gallery